Buck Tui BBQ in Overland Park, Kansas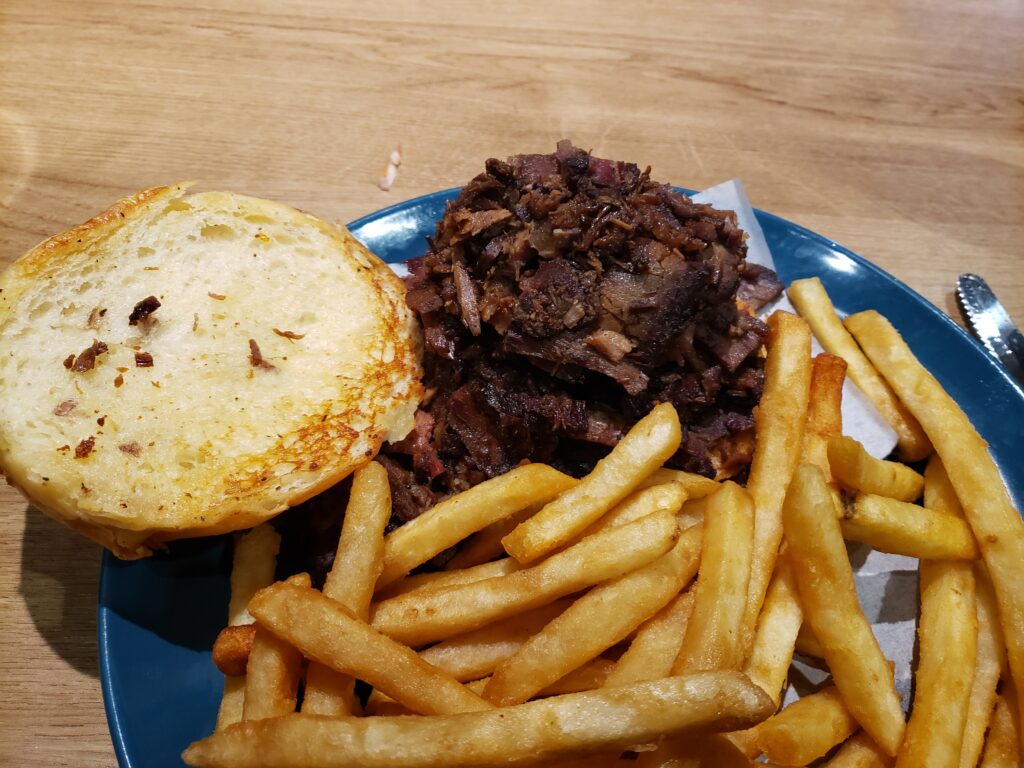 On Thursday, April 27th, my girlfriend and I visited Buck Tui BBQ in Overland Park, KS. I've wanted to try this place for a long time, as they are making waves in the Kansas City barbecue scene. Located near 75th and Metcalf in the location where Plowboys used to be, this restaurant is a mix between Thai food and Kansas City barbecue. That really intrigued me, as it's definitely not something you see every day!
Here is some information about the restaurant from their website…
"Buck Tui is a Thai term of endearment; a particularly fond way of calling to a young chubby boy. It's what Ted Liberda has been called by family and friends since he was small. There is a tradition in both Thai cooking and barbecuing of companionship, collaboration, and togetherness; each element working together to create something truly memorable. Working in restaurants around Kansas City for 30 years, Liberda is bringing that familiar calling from his kitchen at home to the kitchen at Buck Tui BBQ. 
As a Kansas City native and local restaurateur, Ted Liberda is well known around town. He grew up eating both Kansas City- style barbecue as well as his mother's home-cooked Isaan Thai classics. She still owns and operates Thai Diner in Lawrence, KS. Ted trained at the Florida Culinary Institute before coming back to town. He's married to Pam Liberda, Executive Chef at Waldo Thai, and they have two daughters. 
Over the years through both experience and challenges, Ted has discovered joy in barbecuing. The required patience, methodology, nuanced practices and meal sharing with those around him brings him hope – a hope that he wants to share with all of KC. Family and culture are blended through these practices, both in personality and recipes.
Buck Tui BBQ brings together the complementary flavors of Northeastern Thai cuisine and Kansas City Barbecue alongside an exceptional bar program. With an emphasis on locally-sourced ingredients, brisket, and smoked meats, we utilize traditional Thai techniques to achieve the familiar smokey-salty-sweet barbecue that Kansas Citians love. The use of palm sugar, Thai smoking methods, and authentic sauces require the type of precision and experience Liberda is known for. Heavenly seasoning on flame-fired meats paired with jasmine rice and papaya salad are bringing new invigoration and excitement to the barbecue scene here in town. 
The restaurant is relatively new, opening in early 2022.
We arrived around 6:30 PM and were greeted and seated instantly. Our waiter was very cordial and attentive throughout our visit. We decided to order a couple of appetizers and chose the brisket rangoons and Buck Tui smoked wings. The appetizers were served to us within five minutes.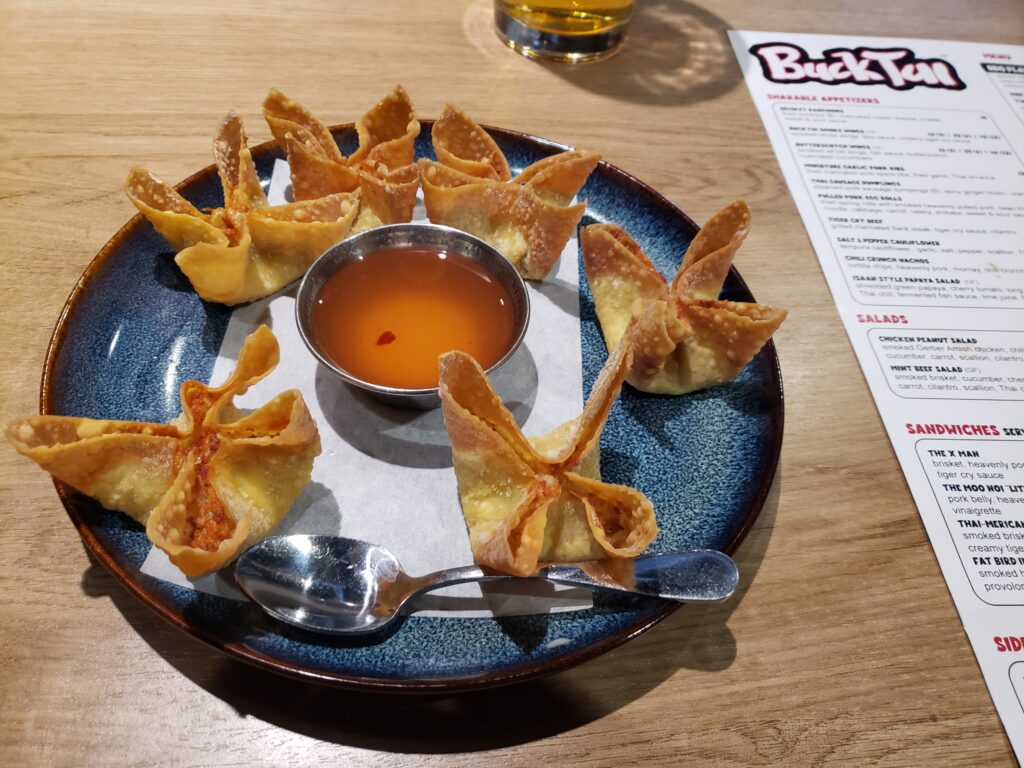 The brisket rangoons were outstanding. Anyone who has followed me for any length of time knows that I don't just throw out the word "outstanding" much! Here's a picture of the inside of the rangoon…
The smoked wings were great. The skin was crispy and I surmised that he smokes the wings and then finishes them off by putting them in the fryer to crisp up the skin. It's a successful recipe. I'd highly recommend both of these appetizers.
My girlfriend ordered the two meat plate of turkey and pork belly with potato salad and Buck Tui pickles as the side dishes. It is also served with barbecue sauce, tiger cry sauce, and seasoned jasmine rice.
I tried a little bit of everything on her plate and really liked both meats and the pickles. The meat was very tender. The pickles are sweet, which I am a fan of and she is not. Neither of us were a big fan of the potato salad.
I ordered the brisket sandwich dry. The waiter gave me a weird look because I wanted to try it dry. It is normally served with their creamy tiger cry sauce on it. But he said "okay" and didn't argue at all.
It didn't take long for us to receive our entrees. Probably 10 minutes or so. The brisket was served shredded. It was tender, yet crispy, and had a great flavor to it. It was prepared "well done," but that didn't affect the tenderness. I thought it was a pretty good sandwich overall. Didn't need the sauce to devour it just fine.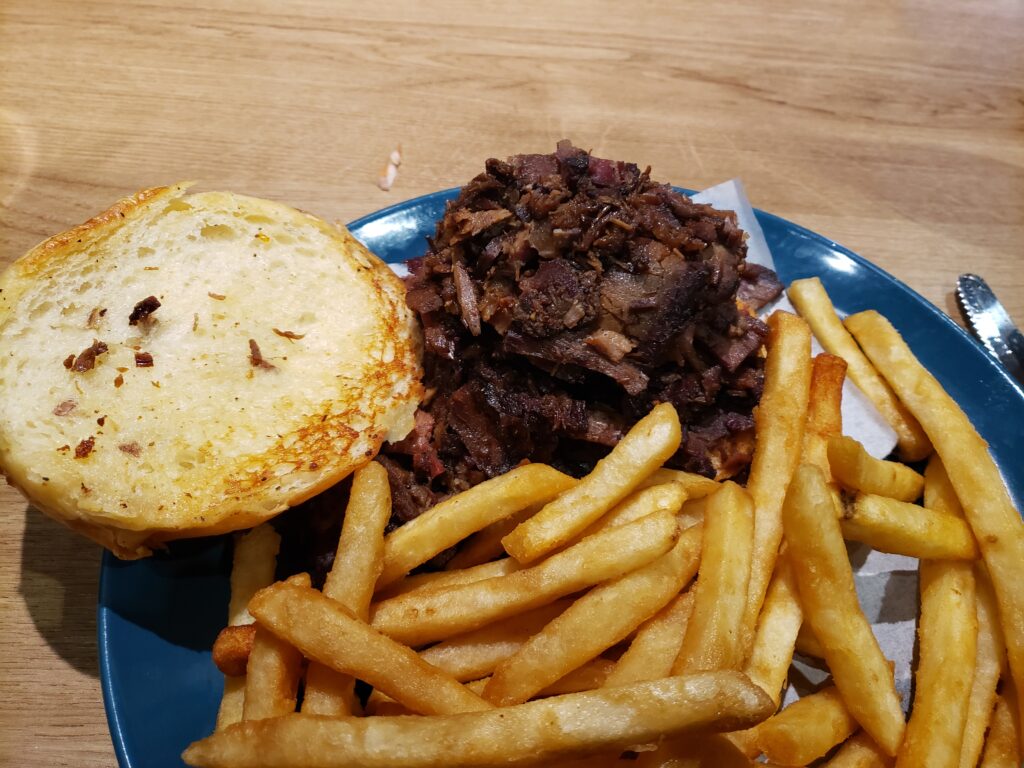 On a side note, you can choose to have their brisket served on your meat plate and it is served sliced.
This is a picture I snapped of the wall inside. Interesting decor.
Our bill for the appetizers, main courses, and a couple of beers came to almost a hundred dollars for the two of us. While this place has some excellent food, it IS a bit on the pricey side. Regardless, we both agreed we would go back to try some other dishes. I highly recommend that you try this place if you haven't already!