Jack Stack – Ribs And Wings
I visited Jack Stack downtown in the Freight House district on Friday night to try the pork ribs and chicken wings. I tried to call for a reservation earlier in the day but there wasn't anything available before 7:30 so we decided to walk in and sit in the bar area. We arrived around 5:30 and were seated right away. By the time we left, there was a line out the door and the wait was 45 minutes.
We were waited on right as we sat down, which is no surprise. The service is always great at this place. I ordered the pork spare ribs and the fire-kissed wings. The wings are rubbed with cajun spices and grilled over hickory wood. Our food was served about 15-20 minutes after ordering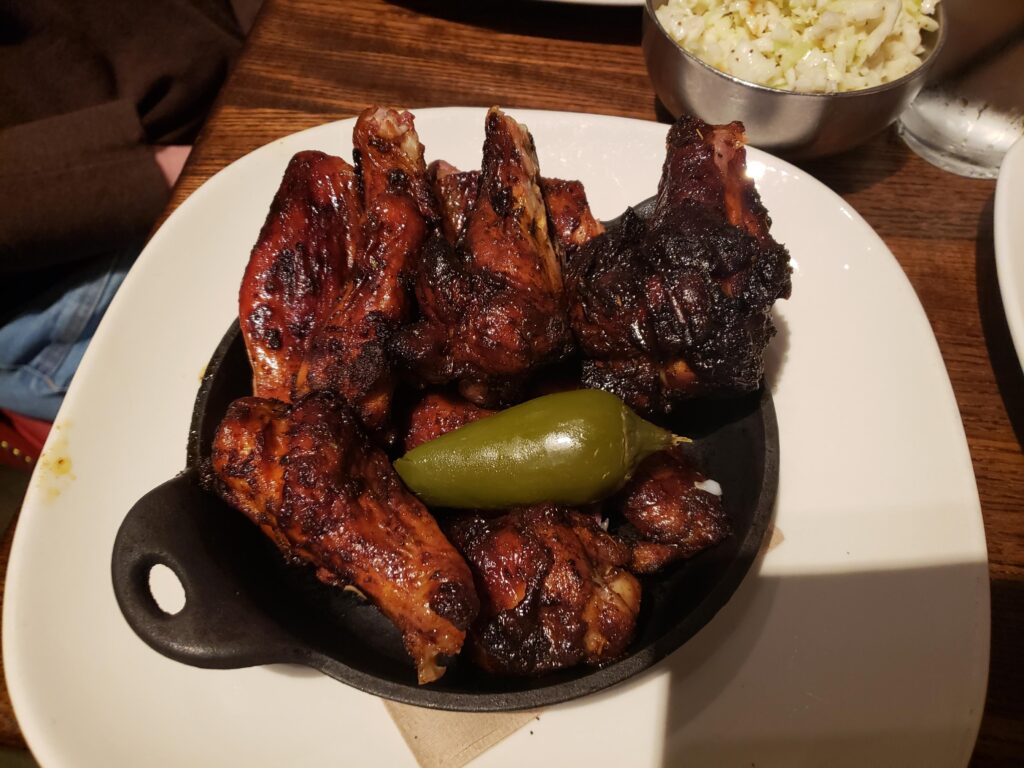 I dug into the ribs first. They were tender, flavorful, and had a nice smoke flavor. The skin was a bit rubbery, which is my only complaint, and a small one at that. The wings were very good. They have a habanero rub on them that has a nice kick to it. If you don't like spicy, stay away from these wings. If you do like spicy, I think you will really like these. They have just enough spice to linger in your mouth, making it tingle, and causing you to wash it down with your favorite drink. The skin on the wings was a bit rubbery, but not enough that it was difficult to eat them.
My girlfriend ordered brisket and burnt ends with baked beans and fries. I sampled all of it and it was great. I'm not normally a fan of baked beans, but they were excellent. I tried three of their sauces with my fries. My favorite is the "original" sauce, which our waiter called the "sweet sauce." The two other sauces that I tried were the hot sauce and the spicy sauce. I didn't find the spicy sauce spicy at all and the hot sauce tastes like ketchup. I'd recommend you stick with the original sauce if you're a sauce person, but they'll gladly let you sample the other sauces. You just have to ask.
Jack Stack is always good, but you also pay for it. Our bill was almost seventy dollars for two people and we didn't have any leftovers. I found there are better places in Kansas City to get brisket and I hope I find better places to get ribs and wings! The quest continues!
---
Follow me on Facebook or on my website!