Harp Barbecue in Raytown, Missouri
Owner Tyler Harp and yours truly
Tyler Harp of Harp Barbecue didn't start his operation in Raytown until I was already done with my barbecue quest, but I was urged by a couple of people to try it out so I visited on June 22nd. I didn't write a blog post about it until now, so I apologize for not posting sooner.
Tyler has partnered with Crane Brewing in Raytown to provide barbecue on Saturdays starting at 11:00. They serve until they are out of food and word is getting around, so be sure to get there early. There is always a long line.
Tyler serves a Texas style brisket, which is a little different and unique here in Kansas City. It is a thicker cut than you get at most barbecue places here in town, which I love. I went with a buddy of mine and we each ordered a brisket sandwich and split a rack of ribs. We got some cheesy corn on the side. See the picture below!
Everything was great. I'll have to say that I'd definitely rank the brisket in the top five I've tried. The ribs were great as well. It's also great being in a micro brew, so you can sample a bunch of beers with your barbecue!
I took a picture of the menu, but I think it changes week to week. I would recommend following them on Facebook to see what they're planning to cook each Saturday. I think the main courses stay the same but he cooks up some special stuff as well. One Saturday recently they served beef ribs, for instance.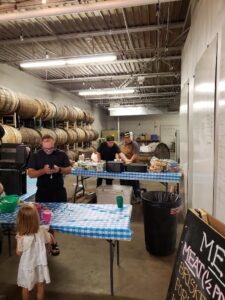 The serving line at Harp Barbecue
Crane Brewing is located at 6515 Railroad St, Raytown, MO 64133. It's kind of hidden in a small industrial area, but you should be able to find it fine if you put it in your GPS.
Check out Harp Barbecue when you get a chance! You won't be disappointed!