Tin Kitchen March 7, 2020
I took my Mom and Dad to Tin Kitchen in Weston last night. They had never been there and have really wanted to try it. I figured it was a great way to kick off part two of my quest: trying to find out who has the best pulled pork and ribs in town!
We arrived in Weston around 5:00 and were seated as soon as we got to the restaurant. We got there at the right time, as there was a huge line waiting for a table the entire time we were there. It was packed.
Owner Sean O'Malley came out and said hello and it was nice chatting with him. We didn't chat long because the place was so busy that he had to get back to work! Every employee in this place is so nice, from the person that greets you at the door to your waitress, to the many other employees that come and check on you during your meal. They've got great customer service from the top down.
My Mom and I split a slab of ribs and I ordered a side of pulled pork. I ordered broccoli and coleslaw as my side dishes. My Dad ordered ribs and brisket.
Tin Kitchen pulled pork
I already know this place has great food but wanted to try something different. When people ask me who has the best barbecue in town and I mention Tin Kitchen I get some weird looks. But I stick to my guns because the food is excellent and oftentimes the person that asks me has never been there or has never heard of it.
Tin Kitchen won the USA Today Reader's Choice Award for best ribs in Missouri. The pork ribs are St. Louis Cut spare ribs, rubbed with Kosher salt and coarse black pepper, and smoked over pecan wood for five hours. During the cook the ribs are basted with a mix of Sweet BBQ sauce and cider vinegar. I will just say the ribs are amazing. They are very tender and juicy, but not fatty, and had a great flavor.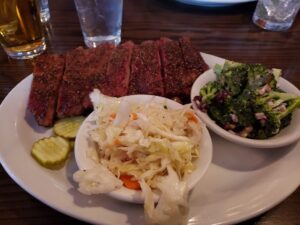 Tin Kitchen ribs, broccoli and coleslaw
I also tried the pulled pork. A lot of times when you order pulled pork at restaurants here in town it tends to be dry. Not at Tin Kitchen. The pulled pork was tender and juicy and had a great flavor as well.
My Dad raved about the brisket. He is pretty picky about his barbecue, especially burnt ends, and definitely has his favorites. He said he's never had brisket that tender and would put Tin Kitchen's brisket at or near the top. He also commented that anyone who argues about Tin Kitchen having some of the best brisket in town has simply never tried it. I agree!
We had another successful trip to Tin Kitchen in Weston. I'm not in a hurry to revisit every barbecue place in town to try the ribs and pulled pork, but it's my goal to get to each one again eventually. Hope you enjoy following along. Till next time…