9th Place – Danny Edwards BLVD BBQ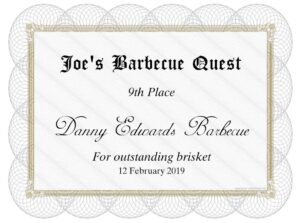 Finishing 9th place on my list of best barbecue places in town is Danny Edwards BLVD BBQ in Kansas City, Missouri. I visited on Friday, February 2nd, 2018. You can read the blog post of my visit here.
Although the sandwich I received that day was a bit cool in temperature, I made note that other than that they cooked the perfect brisket in my opinion.
You can view their website and menu below:
Website: https://www.dannyedwardsblvdbbq.com/
Menu: https://www.dannyedwardsblvdbbq.com/menu/
Here's the top 21 so far:
9. Danny Edwards BLVD BBQ
10. McGonigle's Market
11. Jazzy B's Diner
12. Chop's BBQ
13. County Road Ice House
14. A Little BBQ Joint
15. Roscoe's Barbecue
16. Mudhole BBQ
17. Jack Stack BBQ
18. Blind Box BBQ
19. Slap's BBQ
20. Joe's Kansas City Bar-B-Que
21. LC's Bar-B-Que