Barbwire Barbecue in Eudora, Kansas
Saturday night I visited Barbwire Barbecue in Eudora, KS. Barbwire is a relatively new barbecue restaurant in the area. Co-owners Jay and Jason Musick started out participating in barbecue competitions and then bought and ran a food truck for about five years before opening the restaurant last September. I found this place to be a hidden gem that is not too far from Kansas City, less than a mile off of K-10 in Eudora, Kansas.

Jay and Jason are two cousins of a good friend of mine and I've wanted to try Barbwire for a while. We got there around 4:30 on Saturday and quickly learned that it is a good idea to get there early. After we ordered, the line was out the door the entire time we were there.
This is a restaurant where you order at the front counter and they give you one of those table flags with a number on it and they bring your food out to you. The dining room seats about 25-30 people and they have a picnic area patio out back that seats a lot more than that. They also have live music on the weekends, making for a great atmosphere. They have a variety of drink choices and a good variety of beers on tap.
I ordered a brisket sandwich and fries and my friends ordered a variety of items so we could try a lot of different things. I received my food about five minutes after ordering and my friends received their food shortly thereafter.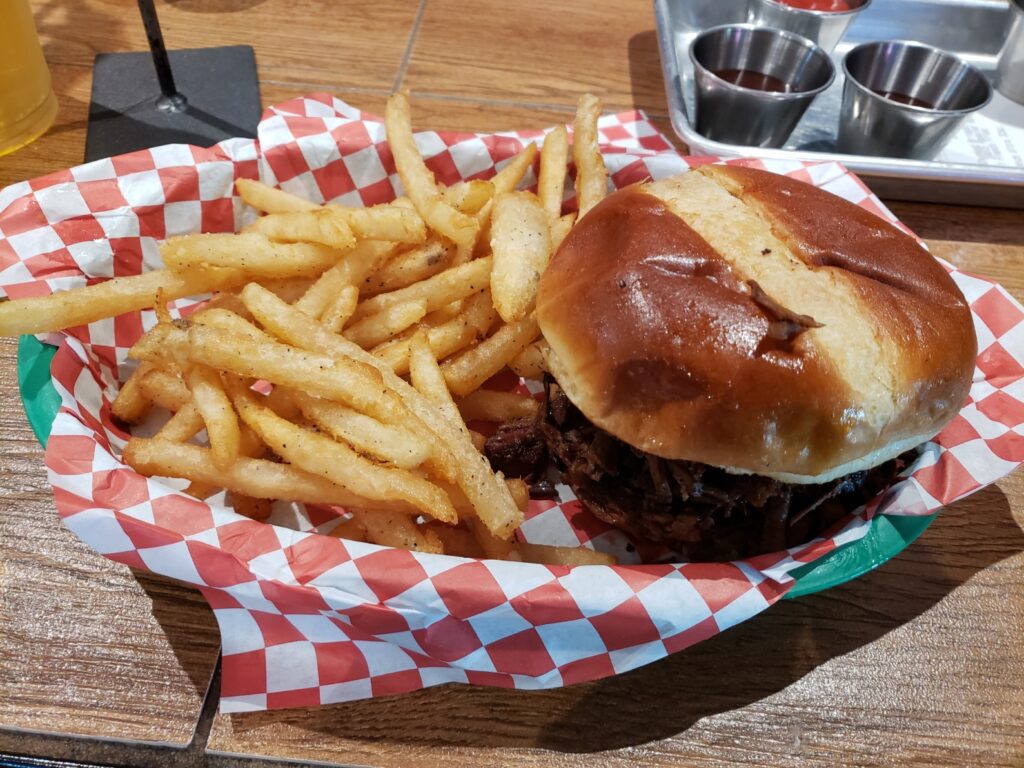 The brisket is served chunked on a brioche bun with the sauce on the side. They have four sauces that they make in-house along with their rub. They have a regular sauce, a sweet sauce, a hot sauce, and a habanero sauce. All of the sauces were great, and I'm generally not a fan of barbecue sauces. The fries were good and had a good seasoning on them. The brisket was tender and juicy with no fat and a very strong hickory smoke flavor. This sandwich was great and I had zero complaints.
Jay came out and talked to us for a bit and told us the story of how they opened and how they cook their food. they have a smoker out back and he puts the brisket on at 8:00 at night and lets it smoke with hickory logs until the next morning.
Once Jay found out that I write a barbecue blog and that I've visited every barbecue place in Kansas City, he asked if I ordered the burnt ends. I said "no, should I have?" He said he'd take care of that and would be right back. He disappeared for a few minutes and came out with a bowl of burnt ends that were fantastic. They were trimmed of all the fat, were burnt like they're supposed to be, and were tender and had a great flavor from their in-house rub. I asked Jay if they're selling their rub and he said "not yet." Once he starts selling it, I'm gonna buy some!
My friend Chris ordered some chick-arrones, which are chicken thigh and skin pieces served with a Teriyaki honey glaze. They were great as well.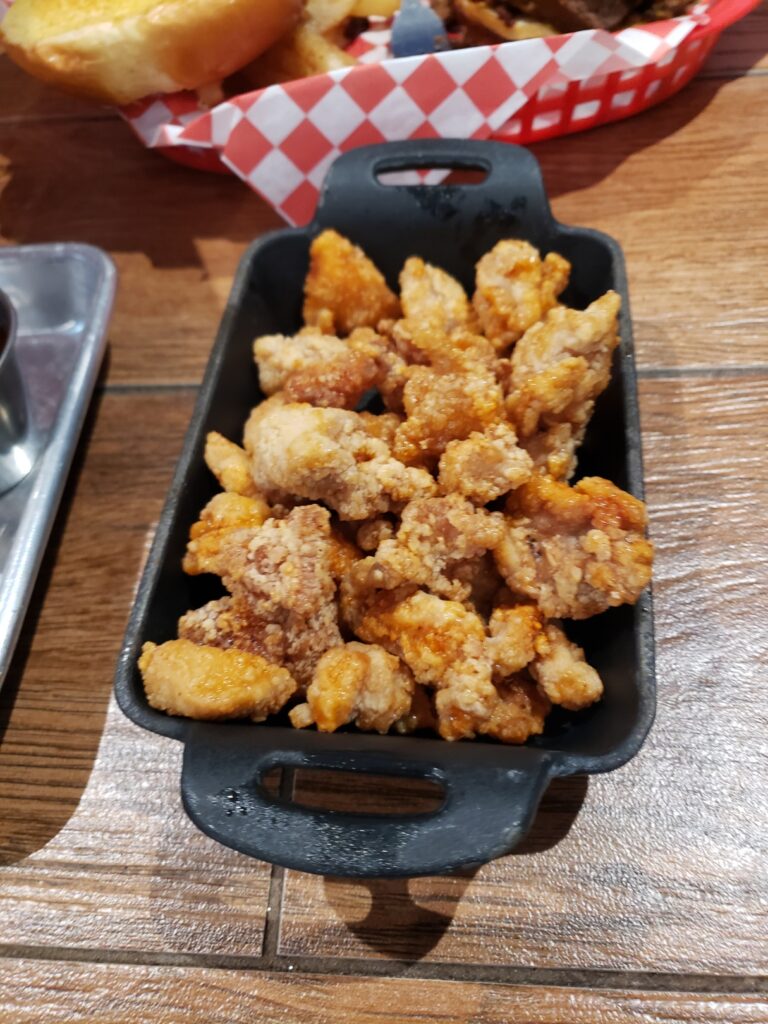 One of my other friends ordered a cheeseburger and she thought it was so good that she asked if I wanted to try it. Of course I said yes! I had a piece of it and it was fantastic. All the food I tried was excellent.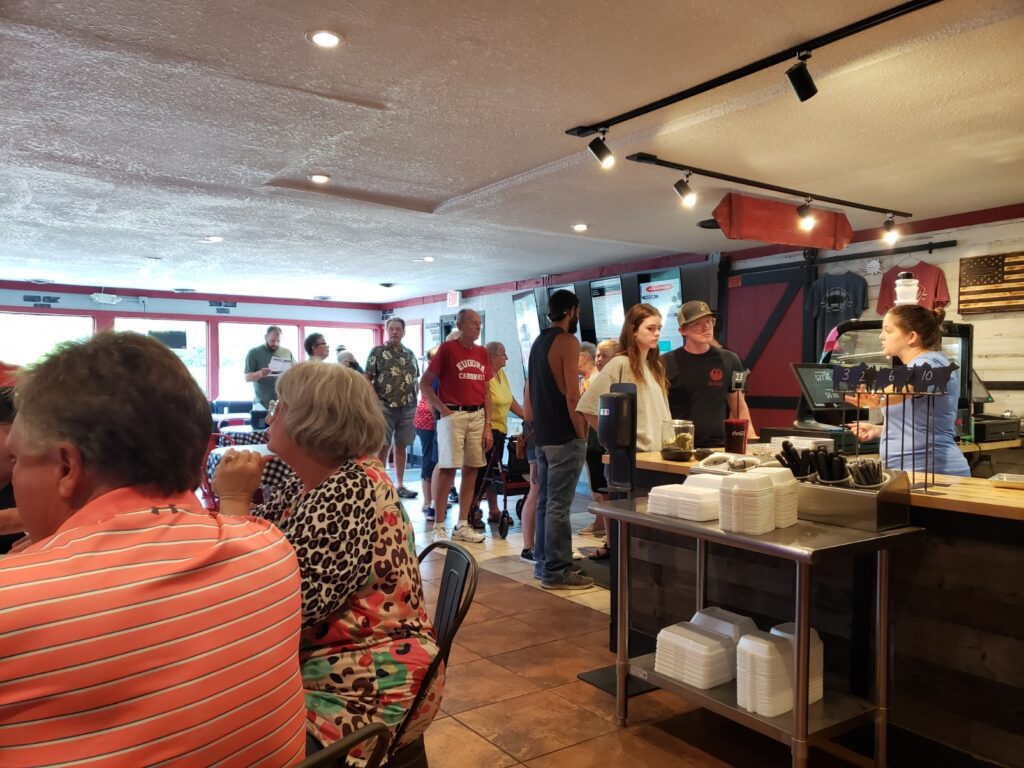 After eating we decided to grab a drink and go outside to watch the band, which had started playing. They have a really nice area out back to kick back and relax and listen to some great live music.
I could have hung out here all night since it was so beautiful outside.
This is some of the best barbecue I've had in a while. It's worth the drive to Eudora to check it out. They know how to do it right. It's a family-run place and everyone is extremely nice. Their kids were running food out to people and bussing tables. If you live in the area and are looking for a job, they are hiring! If you're a fan of great barbecue, do yourself a favor and check out Barbwire!